In a unique attempt to imbue the value and importance of giving among young learners, Delhi-based NGO- Wishes and Blessings, on the occasion of Daan Utsav festival, joined hands with one of the top educational institutions in Delhi-NCR, Modern Public School (MPS), Shalimar Bagh. Also known as the "Festival of Giving", Daan Utsav presents the perfect opportunity for people to come together and support underprivileged communities by sharing and giving basic utilities.
Empowering Students to Spread Kindness: Daan Utsav Celebrations
Every year, the country celebrates Daan Utsav from 2 to 8 October to promote a culture of philanthropy. This year, Wishes & Blessings and MPS made the festival even more impactful by involving the students in meaningful acts of kindness. Students along with faculty at the school and the volunteers from the NGO zealously participated in the donation drives organized during the week to celebrate the joy of giving.
Principal Alka Kapur Commends Noble Cause Impact
"It was indeed a privilege to get associated with an eminent NGO like Wishes and Blessings and be a part of a noble cause that ushered smiles on the faces of many children. The program not only taught children the importance of giving, but it also gave them the opportunity to make a difference in the lives of less fortunate children. I am delighted to have witnessed the vibrant participation of the students, faculty, and staff of the school, who made the drive a grand success. I am confident that such drives will foster societal change and inclusive growth," noted Principal Alka Kapur, Modern Public School, Shalimar Bagh.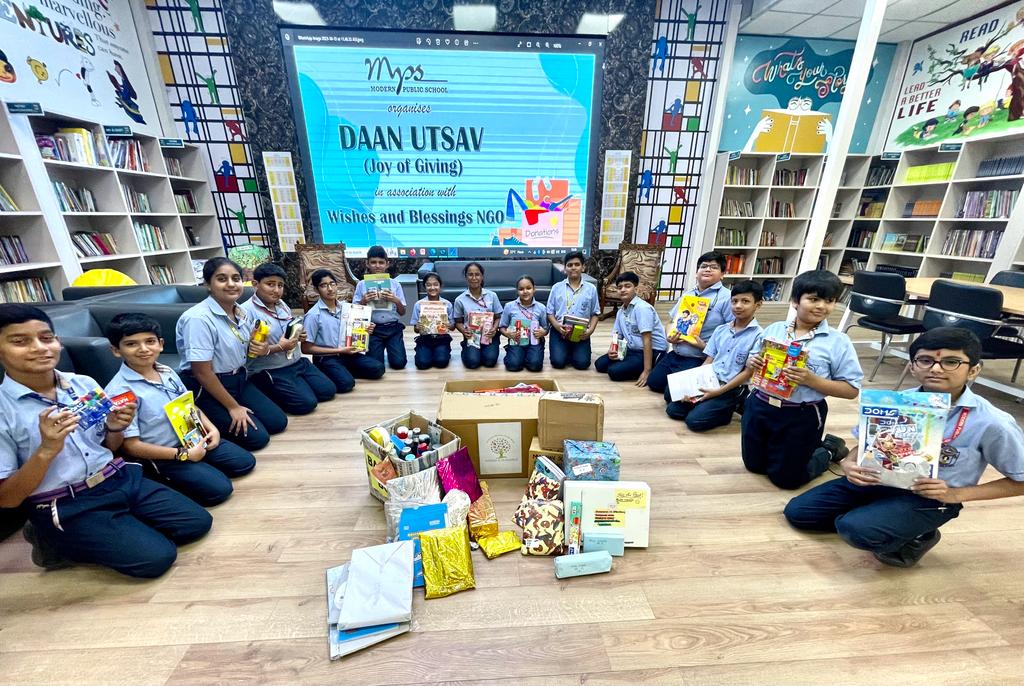 MPS Stationery Drive Enhances Education for the Underprivileged
The donation drive at MPS included a collection of stationery items, even as simple as pencils, erasers, notebooks, and other school supplies. Wishes and Blessings placed a donation box at the campus of the school and encouraged students, faculty, and staff to participate in the worthy cause by donating any new or slightly used stationery products they could spare. The items collected during the donation drive will be delivered by the volunteers of Wishes and Blessings to the underprivileged communities with insufficient educational resources.
Dr. Geetanjali Chopra Reflects on Daan Utsav Collaboration
"Daan Utsav signifies the value of giving and is in line with the endeavor of Wishes and Blessings to spread smiles and help as many less fortunate individuals. The collaboration with Modern Public School in this year's Daan Utsav has added more value and glory to the festivity. Through the donation drive in the school, I am sure that the young minds will imbibe the sense of empathy and compassion, which will enable them to grow as the future change-makers in the society," mentioned Founder and President of Wishes and Blessings Dr Geetanjali Chopra.