New Delhi: Anil Agarwal Foundation (AAF), the philanthropic arm of Vedanta Limited, has embarked on a mission to combat hunger and malnutrition with a groundbreaking multimedia campaign. The initiative kicked off with a heartfelt letter from Mr. Anil Agarwal himself, published in print media, and is set to make a significant impact during the National Nutrition Month, also known as 'Poshan Maah.' The campaign, tagged as 'Agar Bachpan Se Puchha Khaana Khaya Toh Desh Ka Kal Banaya,' underscores the urgent need to eradicate child hunger and malnutrition, recognizing the untapped potential among underprivileged children. AAF's commitment to ensuring proper nourishment aligns with its vision of building a brighter future for the youth of India.
A Movement Rooted in Personal Experience
The campaign's genesis lies in Mr. Anil Agarwal's personal journey, marked by experiences of hunger during his childhood. His vision to ensure food security for every child serves as the cornerstone of this transformative campaign. Ms. Priya Agarwal Hebbar, Director of Vedanta Limited and Chairperson of Hindustan Zinc Ltd., emphasized the campaign's goal of involving every citizen of India in this mission. She stated, "There is potential in every child that needs to be nurtured, not just for their sake but for our country's future."
A New Logo Symbolizing Growth and Potential
Accompanying the campaign launch is the unveiling of Anil Agarwal Foundation's new logo, featuring a growing sapling. This symbolizes AAF's belief in the untapped potential within each individual, a potential that should be recognized and nurtured to full maturity.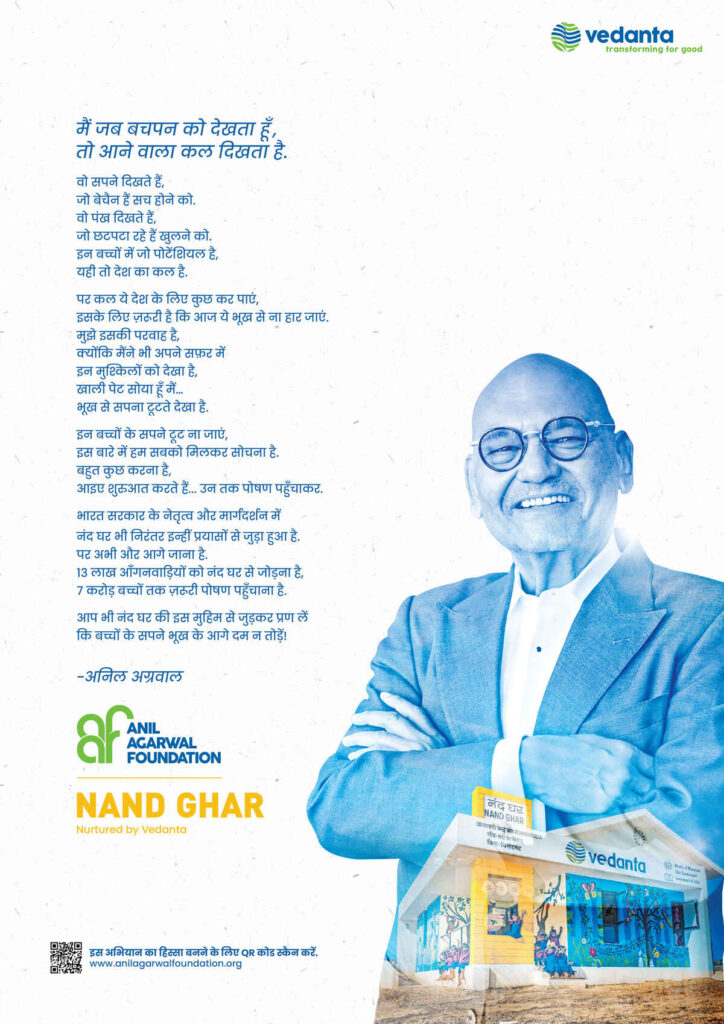 Stirring Hearts and Prompting Action
The campaign, designed and executed by McCANN Erickson (India), aspires to raise awareness and galvanize society to end hunger and malnutrition. Prasoon Joshi, CEO & CCO at McCann Worldgroup India and Chairman, Asia Pacific, praised the campaign for its authenticity and the genuine chord it strikes with people. He added, "It also tries to shake one out of inertia and move society towards positive action."
Nand Ghar: A Beacon of Hope
Anil Agarwal Foundation, through its flagship social impact project, Nand Ghar, is already contributing to the cause of eliminating hunger and malnutrition across the nation. Nand Ghar is a collaborative effort between Vedanta and the Government of India, aiming to modernize over 29,000 Anganwadis. With 5,500 Anganwadis already transformed into Nand Ghars, the project is making a tangible impact, especially on children and women at the grassroots level.
A Holistic Approach to Development
Aligned with the Government of India's POSHAN Abhiyaan and this year's Poshan Maah theme of 'Suposhit Bharat, Sakshar Bharat, Sashakt Bharat,' Nand Ghar strives to support health, education, empowerment, and nutritional needs. Nutrition is a core focus area of the initiative, as it recognizes the long-lasting consequences of poor nutrition on a child's growth, learning, and productivity.
Achieving Sustainable Development Goals
Nand Ghars are playing a pivotal role in reducing malnourishment among preschool children, with nearly 20% fewer children falling under the Severely Acute Malnourished (SAM) and Moderately Acute Malnourished (MAM) categories compared to the national average. This achievement is instrumental in advancing Sustainable Development Goal 2 of Zero Hunger.
A Path to Transformation
Nand Ghars have consistently demonstrated their ability to transform the lives of grassroots communities. Earlier this year, AAF introduced a nutrition initiative providing multi-millet nutri bars in Anganwadis, including Nand Ghars. These bars, rich in protein, fiber, and antioxidants, have not only improved children's daily nutrient intake but also enhanced cognitive development and reduced absenteeism in Anganwadis.
Anil Agarwal Foundation's multimedia campaign is poised to make a significant difference in the fight against hunger and malnutrition among children. By nurturing the potential of every child, it strives to build a brighter and healthier future for India.