Lucknow/Mankapur: Balrampur Chini Mills Limited, one of the largest integrated sugar companies as well as the largest supplier of Ethanol in India hosted "Kisan Samriddhi Mela" (Farmers Prosperity Fair) at its Mankapur unit on 11th October 2023. The event was graced by IAS Smt. Neha Sharma, District Magistrate, Gonda who was welcomed by Ms. Avantika Saraogi, Promoter & Business Lead: New Initiatives Balrampur Chini Mills Limited (BCML), Mr. Neeraj Bansal, Chief General Manager, BCML Mankapur unit. True to its name, the event aimed at educating sugarcane growers on the latest agricultural machineries and their usage alongside the implementation of best agricultural practices.
Dignitaries and Company Participation
Well-known companies like Mahindra & Mahindra, Wiptech Peripherals Pvt. Ltd. Rajkot, Dhanuka Agritech Ltd., Orogonext Life Sciences, Crystral Crop Protection Pvt. Ltd., NATCO Crop Health Science, etc. displayed their products at the stalls in the presence of around 1000 farmers. Trained officials from leading farm equipment manufacturing companies showcased live demonstration on the usage of modern farming machineries while those manufacturing pesticides also demonstrated on the effective usage of pesticides to protect the crop from diseases.
Modern Farming Education and Demonstrations
Following the ribbon-cutting ceremony, Smt. Neha Sharma visited the stalls & experienced some of the live demonstrations herself. All the dignitaries shared several insightful case studies with the farmers to inspire them with latest farming techniques. To make the event even more momentous, farmers were felicitated with awards & gratification, who adopted modern agricultural practices & farm mechanisation to achieve notable results.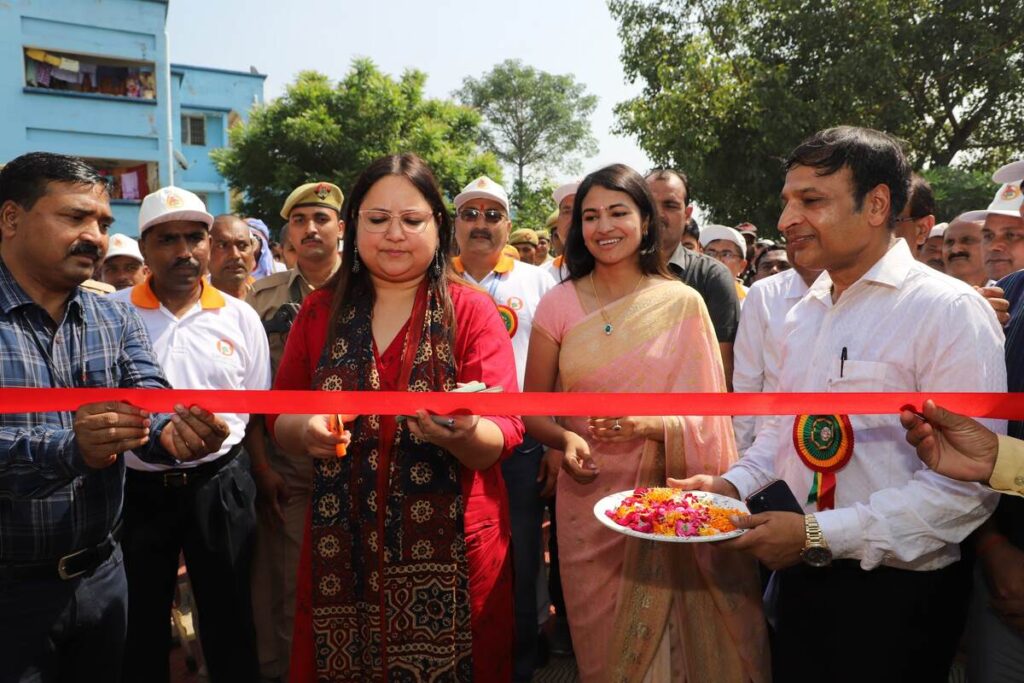 Recognition and Awards for Progressive Farmers
Growers' community is a key stakeholder in the sugar-manufacturing industry and Balrampur Chini Mills Limited (BCML) has always nurtured a promising relationship with them through the Company's continued proactive measures. This event was an earnest attempt undertaken by BCML to bring the growers' community closer to the world of evolving technological advancements.
BCML's Commitment to Growers' Community
Ms. Avantika Saraogi, Promoter & Business Lead: New Initiatives Balrampur Chini Mills Limited (BCML) emphasized on the Company's efforts in line with the interest of the growers' community and said, "The welfare of farmers is the cornerstone of our organization's mission. The Kisan Samriddhi Mela (Farmers Prosperity Fair) held at our Mankapur Unit was conceived with the primary goal of enlightening farmers about the latest advancements in sugarcane cultivation. It also aimed to gratify those farmers who have demonstrated commendable efforts in embracing modern agricultural practices and reaped substantial benefits. This success story serves as an inspiration for fellow farmers to adopt contemporary and sustainable agricultural methods. Our objective was to offer valuable insights to the farming community through live demonstrations conducted by experts from leading technological partners, who enthusiastically participated in this event, enlightening farmers about the myriad advantages of employing state-of-the-art agricultural equipment."
Statements from Promoter and Chief General Manager
Mr.Neeraj Bansal, Chief General Manager, Balrampur Chini Mills Limited (BCML) Mankapur unit, said "We are extremely grateful to all our partners who supported our endeavour to align the growers' community with the world of technological advancements. Our hard-working grower's community is the backbone of our sector. Our initiatives arededicated to bring a qualitative transformation in their lives, a pivotal step towards shaping a brighter future for India. We at BCML, feel such initiatives would not only boost the production capacities of the growers but also reinstate BCML's stance as a rural prosperity driver."