Delhi: Toyota Kirloskar Motor (TKM) has achieved a groundbreaking milestone in sustainable mobility by revealing the Prototype of the World's First BS 6 (Stage II) Electrified Flex Fuel Vehicle. This vehicle prototype aligns with India's national objectives, showcasing TKM's commitment to technology that complements the country's unique energy landscape. With a focus on reducing fossil fuel consumption and carbon emissions, TKM's efforts contribute significantly to India's ambitious environmental targets.
Addressing India's Growing Energy Challenges
India's rapid economic growth has led to increased fossil fuel consumption and heightened crude oil imports. The transport sector, responsible for approximately 50% of oil demand, is a major contributor. As mobility needs surge, energy consumption in the transport sector is projected to double to 200 Million Tonnes of Oil Equivalent (Mtoe) by 2030, leading to amplified carbon emissions. Swiftly transitioning away from fossil fuels becomes imperative.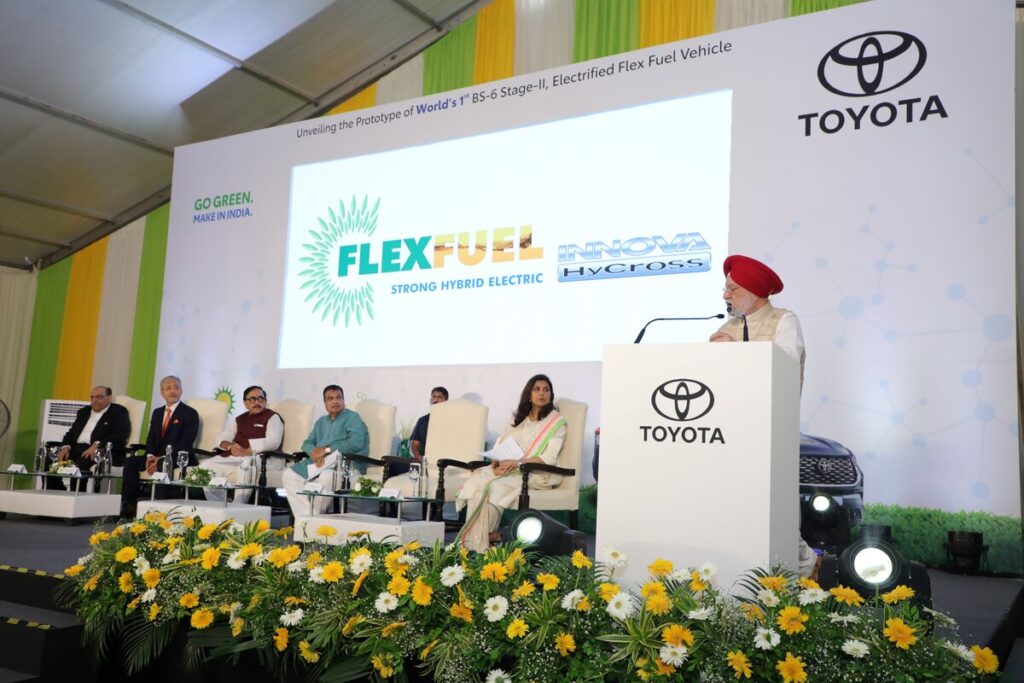 Leveraging Indigenous Resources for Clean Energy
India boasts abundant renewable energy, surplus sugar, food grains, and biomass, creating a ripe environment for a cleaner energy transition. Utilizing sugarcane, food grains, and biomass waste, ethanol production can significantly replace petrol consumption in vehicles, addressing energy needs sustainably.
Ethanol's Remarkable Impact
Ethanol blending in India has risen from 1.53% in 2013-14 to 11.5% in March 2023, leading to a reduction of the oil import bill by Rs. 41,500 crores over eight years. Ethanol blending in 2020-21 saved Rs. 10,000 crores and 26 million barrels of petrol. With the upcoming implementation of E20 (20% ethanol blending) by April 2025, India anticipates annual savings of Rs. 35,000 crores in oil imports and a reduction of 21 million metric tonnes of GHG emissions.
Unlocking the Potential of Ethanol Production
India's potential extends to producing ethanol from plant waste like Parali, utilizing 2G technology. This initiative not only curbs pollution but also transforms farmers into 'Urjadatas' (energy providers) by powering vehicles with ethanol generated from agricultural waste.
The Role of Flex Fuel Vehicles in India's Transition
Flex Fuel Vehicles present an opportunity for significant energy substitution. To address the challenge of lower fuel efficiency in ethanol, Electrified Flex Fuel Vehicles integrate both flex fuel engines and electric powertrains. This innovative solution combines higher fuel substitution with commendable fuel efficiency.
Unveiling the Prototype and Government Support
The Prototype of the World's First BS 6 (Stage II) Electrified Flex Fuel Vehicle was unveiled by distinguished guests, including Shri Nitin Gadkari Ji, Hon'ble Union Minister – Ministry of Road Transport and Highways, Dr. Mahendra Nath Pandey Ji, Hon'ble Union Minister – Ministry of Heavy Industries, and Shri Hardeep Puri Ji, Hon'ble Union Minister – Ministry of Petroleum and Natural Gas. This groundbreaking event marks a pivotal moment in India's journey towards a greener future.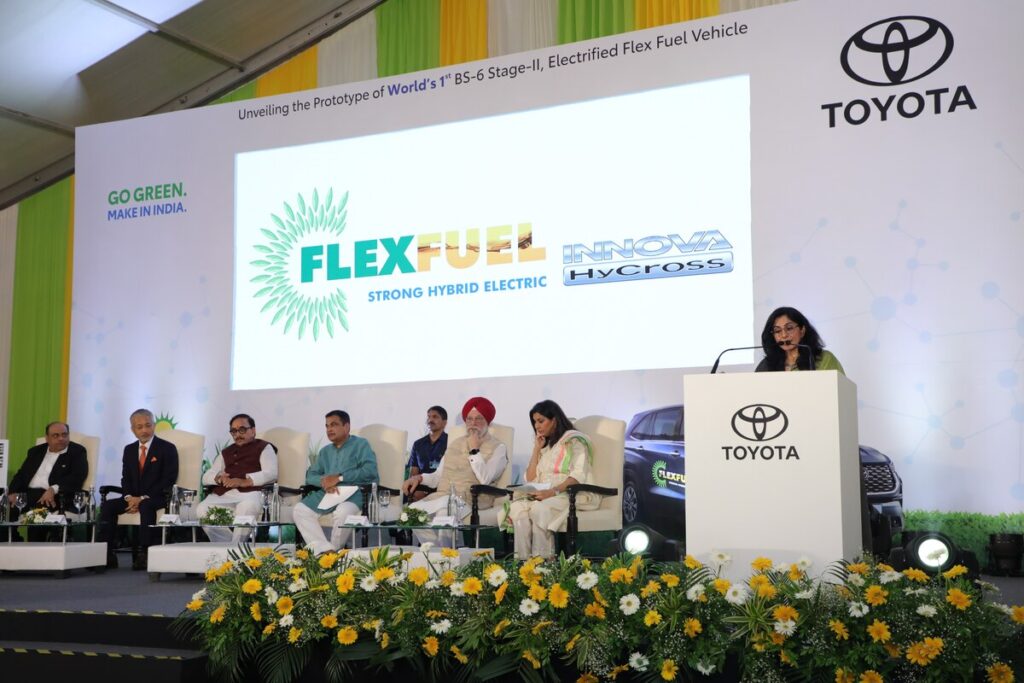 Government's Vision and Toyota's Contribution
Government representatives praised Toyota's efforts in advancing cleaner energy options. Shri Nitin Gadkari Ji highlighted the significance of ethanol in achieving energy self-reliance and environmental impact. Dr. Mahendra Nath Pandey Ji emphasized the role of biofuels in India's journey towards Net Zero by 2070, aligning with various clean vehicle technology schemes.
A Brighter, Sustainable Future
The introduction of the Prototype of the World's First BS 6 (Stage II) Electrified Flex Fuel Vehicle signifies Toyota's dedication to environmental stewardship. As Toyota combines advanced technology with India's local needs, the company solidifies its commitment to a carbon-neutral mobility society, contributing to India's self-reliant and sustainable energy landscape.
Collaboration for Sustainable Mobility
Toyota's commitment extends beyond unveiling the prototype. Collaborations with institutions like the Indian Institute of Science (IISC) and Indian Sugar Mills Association (ISMA) reflect TKM's dedication to promoting sustainable practices and reducing fossil fuel dependence. Through partnerships and innovation, Toyota strives to provide mobility for all while preserving the environment.